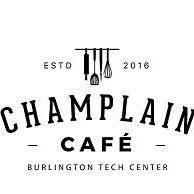 Burlington Technical Center culinary arts students are off to a great start this year. The Champlain Cafe (located next to the BTC Cafeteria) is open on most Fridays. The cafe will be open this 
Friday, October 13th
 for takeout meals.
On 
October 27th
, table service will begin in addition to take out meals. Reservations for the day's menu are available from 
11:50am until 1:00pm
.
All meals are $7.00 each.
Check out the weekly menu and latest news on the Champlain Cafe social media accounts:  
Facebook page
 ,
twitter
.