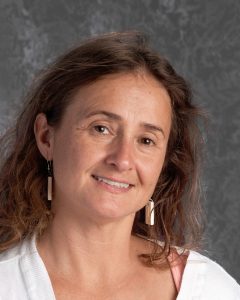 Principal Tracy Racicot
I have been honored to serve the Burlington community as the Principal of the Burlington High School since July of 2016. From 2015-2016 I served in the role of Director of the Burlington Technical Center.
Prior to moving to Vermont to work in the Burlington community, I was employed by the Rensselaer-Columbia-Greene County Board of Cooperative Educational Services (Questar III) in the Capital Region of New York State since 1999. Working in public education for an agency serving 22 school districts, I have  a wide range of professional experiences. As principal in New York State, I  had the privilege of leading teachers in the improvement of instruction resulting in improved outcomes in both academic and technical skill performance, behavior and attendance.Service in education has been my career since 1992.
I am a lifelong learner and have studied at Skidmore College, the College of St. Rose, Fisher College, the State University of Albany and Castleton University.  A Skidmore education is UNIQUE in that it is truly inter-disciplinary and the college's core belief is that "creative thought matters." This is the foundation of my learning. I hold Vermont licenses as a Principal and an endorsement as Career Tech Ed Director, and New York State certifications as a teacher, building and district level administrator. In 2014 I was selected as a Woman of Distinction by New York Senator, Kathy Marchione for commitment to education and community service.
With the soul of an artist and the passion of a leader, I seek to find ways to build a better world in which people can reach their potential. A never-ending interest in learning and exploring is a gift that everyone should inherit. A school principal since 2002, I have had many opportunities to shape learning environments. These values drive me professionally as I strive to articulate vision to move educational practices to be more responsive to student needs. My role is to provide structure and support while I build an understanding of where staff are as we set forth to do our best.  Concurrently,  my is role to be present, patient and centered to move forward to diligently to serve.
Leading is not about the leader. It is about developing other's capacity to identify and solve problems. I desire to grow through learning more from others, dialoguing and shared understanding, to inspire, motivate and support others to become more high performing.
Since arriving in Burlington I have enjoyed making many connections in the community.  Creating rigorous and relevant opportunities for students to succeed is important work. I  look forward to the embracing the work in the educational community of Burlington, building on successes and moving forward with the critical work to be done.