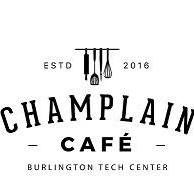 The Champlain Cafe (located next to the BTC Cafeteria at BHS) is open for lunch on most Fridays to the public. There is  a different themed pre fixed menu every week. All meals are $7.00 each and reservations are accepted at 
12:00 pm
, 
12:15 pm
, 
12:30 pm
, 
12:45 pm and 1:00 pm.
  To guarantee a table or takeout order and to confirm availability, please make reservations. The menu is usually posted on the 
Monday
 night of each week on Facebook and Twitter as well as a Google form to make reservations. The menu can also be accessed via the Champlain Cafe logo at  
Burlington Technical Center
   under the  Programs tab, on the Culinary Arts page.
Check out the weekly menu and latest news on the Champlain Cafe social media accounts:  
Facebook page
 ,
twitter
.