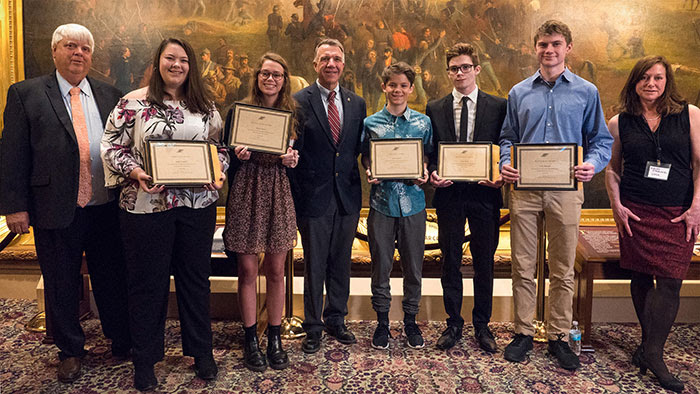 For immediate release:
Video contest aims to change distracted driving habits among high school students
Vermont Highway Safety Alliance 'People's Choice Award' sponsored by Youth Safety Council of Vermont
January 28, 2020 BURLINGTON — Coinciding with National Distracted Driving Awareness Month, the Youth Safety Council of Vermont proudly co-sponsors the third annual Vermont Highway Safety Alliance (VHSA) third annual #802phonesdown!headsup! video public service announcement contest. The video contest is open to Vermont high school students and is meant to encourage young drivers, friends, and peers to avoid distracted driving. Two thousand dollars in prizes, contributed by community supporters, will be awarded to the winning video PSAs. The Youth Safety Council of Vermont has sponsored a $500 prize for the winner of the 'People's Choice Award.'
Every distracted driving death is preventable. Taking eyes off the road for even a few seconds is all it takes to change a life forever. Still, people of all ages text and drive on Vermont roads every day. The goal for entrants is to learn more about this important issue and produce a 25-second video that can inspire change and virally spread the message that distracted driving isn't acceptable. The VHSA and Youth Safety Council of Vermont hope that videos produced by high school students will offer a relatable perspective for other young drivers.
The contest runs from January 15 through April 15. Winning videos will be announced at an awards ceremony at the Vermont State House on May 15, 2020 and shared on social media sites by the VHSA, Youth Safety Council of Vermont, and other statewide safety partners.
The contest is supported with sponsorship from Co-operative Insurance Companies, Midstate Dodge, and the Youth Safety Council of Vermont.
Winners of the 2019 #802phonesdown!headsup! contest — pictured above with Governor Scott — include students from Green Mountain Valley School, Essex High School, Hanover High School, and Northwest Technical Center. View their video entries at YSCVT.org.
For more information about the contest, visit vermonthighwaysafety.org/psa-video-contest/ or contact Evelyn McFarlane, Strategic Highway Safety Plan Coordinator, VTrans, Evelyn.mcfarlane@vermont.gov, (802) 595-4661.
For information about the Youth Safety Council of Vermont visit yscvt.org or contact James Lockridge, Executive Director, director@yscvt.org, (802) 881-9050.