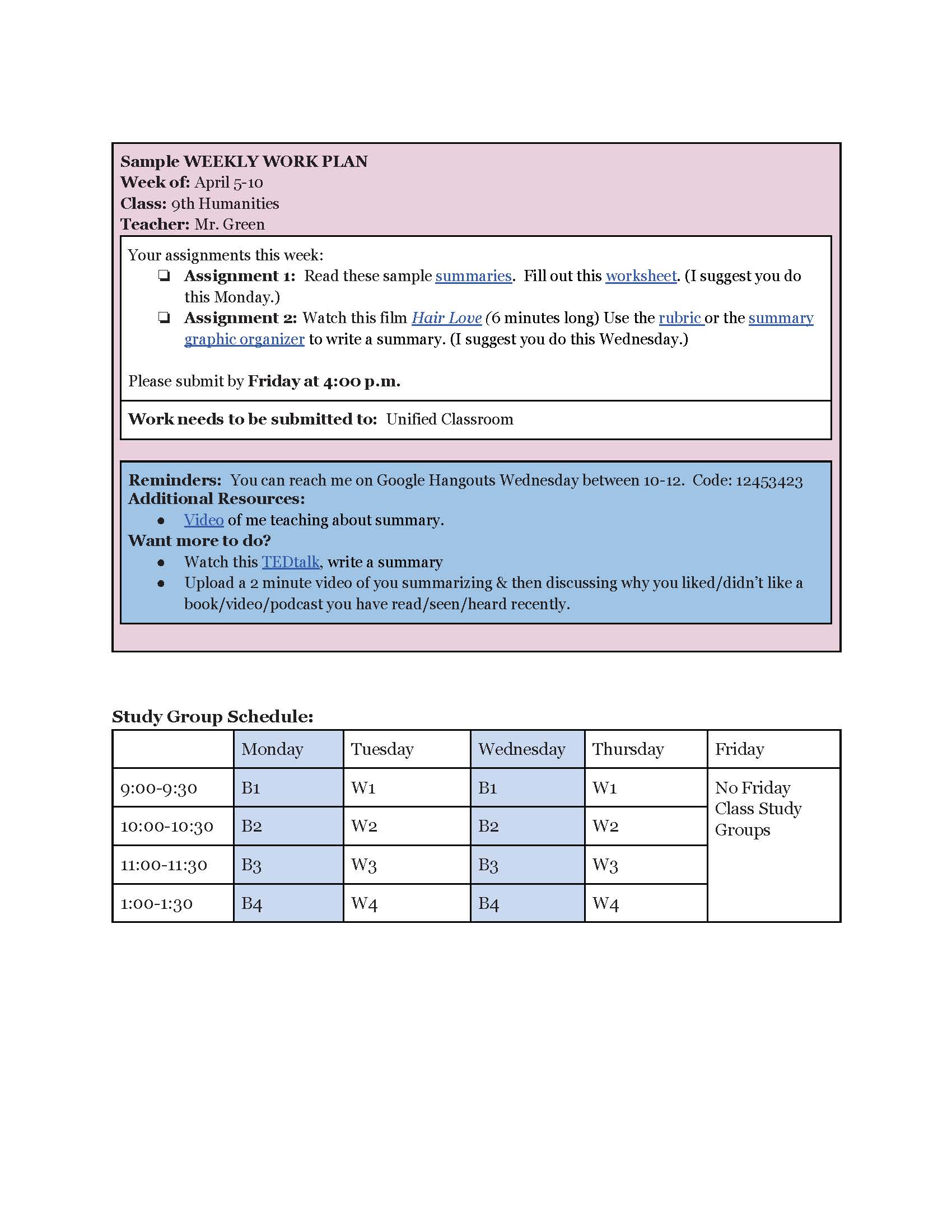 Hello BHS Community,
I hope that all of you are well.  I apologize in advance for the volume of emails you are receiving, but we deem it necessary during our current situation.  As promised, I write to you to share the guidelines that our teachers will be using for the duration of "Maintenance Learning".
Our goal is for students to have more consistency in our current program and more ability to pace themselves appropriately.  
Here is what you can expect from your teachers moving forward:
Every Monday morning, students receive an email from each teacher by 9am.  It will include all assignments for the week. (This week you will be emailed the first Weekly Work Plan on Wednesday 4/1.  Work will be due on 4/3.)

All assignments will be due by Friday at 4pm.  Teachers will suggest pacing for completing the work in their emails.  

All assignments will also be posted in Unified Classroom on Monday by 9am.

Attached, please see a sample "Weekly Work Plan" email.
Teachers will be available via email.  Some teachers are making themselves available for video conferences with students, but this is not a requirement for students or teachers during maintenance learning.  If your teacher holds a video study group, it will be using Google Hangouts/Meet.  Your study groups will only meet at the times specified in the attached schedule, should your teacher decide to hold study groups.  This will eliminate students needing to choose between different learning opportunities if they were happening at the same time. We still suggest that students complete blue day assignments on blue days and the same for white days.
BSD will be moving to "continuity" of learning on April 13th.  We will provide more guidance at that time once our plans have been approved by the Vermont Department of Education.  Please continue to support your students as they first focus on their physical and emotional well-being, then school work.  Thank you.
Best,
Principal Green
Click here for a pdf version of the weekly work plan and study schedule.