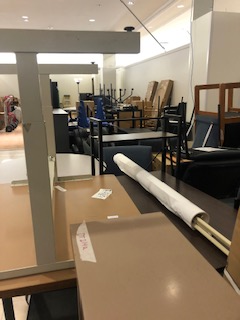 Hello BHS Caregivers and Families,
Wow! What a busy few weeks since my last email. I know many of you have questions as we gear up to move into our new home on March 4th. This email will be full of exciting updates about our DtBHS location. Don't forget, if you still have questions or want to learn more you can join us at our final Virtual Town Hall on February 17th, at 6:30pm, where you'll be able to hear from panelists and ask questions. The meeting will take place on Zoom, and the passcode is: BHSVT
This week teachers spent time both supporting students virtually and packing classrooms in preparation for the move to DtBHS. On Wednesday, all technology and our first truckloads of furniture were moved from BHS into DtBHS. The picture shows our first round of furniture arriving at DtBHS. It is all coming together!
As we get ready for students at DtBHS, the administrative team is working on DtBHS policies and procedures for students. These run the gamut from student parking, to safety (more below), to lunch operations. Please be on the lookout for an email with more information about DtBHS operations in the next few weeks.
We are very excited to let you know that we have finalized the bell schedule for DtBHS. Being at the Edmunds campus has taught us a lot about what works in the era of COVID.  This allowed us to tweak our hybrid learning schedule a bit from what it was at the beginning of the year.  The great news is that once we move into DtBHS, students will gain an additional 15 minutes of instructional time each week. Students will also have two days of asynchronous instruction, which will create an even more robust instructional environment for this spring. 
We had heard requests from the community members to provide additional in-person days learning on Wednesdays and we looked at many different ways to make this happen. We have decided to hold Wednesdays and use them for assessments and testing for the remainder of the year. If you have had students at BHS in the past, you know that the spring semester is filled with testing days which primarily impact 9th and 11th grade students, but often interrupt our regular schedule and cause us to close school. By using Wednesday's as testing days, we will be able to administer these tests without taking away from our scheduled in-person instructional time. This also keeps our hybrid schedule aligned with Chittenden county schools. Please be on the lookout for Wednesday testing days!
As everything comes together at our DtBHS location, we are also starting to plan for the many end-of-year celebrations that will be here before we know it. Additionally, we are looking into several opportunities to engage with the arts, the environment, and the city in ways that were difficult in our previous location. We are hopeful that this opportunity at DtBHS will allow additional flexible pathways to emerge for our students for years to come.
Finally, I wanted to assure you all that we have been hard at work developing a safety plan for the building. We have toured our new home with our SROs and with the District's safety consultants who are helping ensure we have thought of everything. This home will have security cameras, access control (meaning we can lock the outside doors), lockable doors on vast majority of spaces, and detailed safety plans for all spaces (with and without doors) which will allow us to employ our standard emergency response protocols, including the ability to have lockdowns in a all spaces.
Thank you for reading this update, staying engaged, and supporting our students and staff. If you have any questions about safety, or anything else in this email, please feel free to reach out!
Best,
Ms. McBride
P.S. Please join me in thanking parent volunteer, Maggie Pace, as well as the Seahorse Pride team. Maggie Pace has worked to create sample DtBHS logos which are being voted on now by students and faculty (a winner will be announced soon) and Seahorse Pride volunteers provided teachers with a lovely lunch on Tuesday and helped us move boxes to our lobby areas. Thank you all!