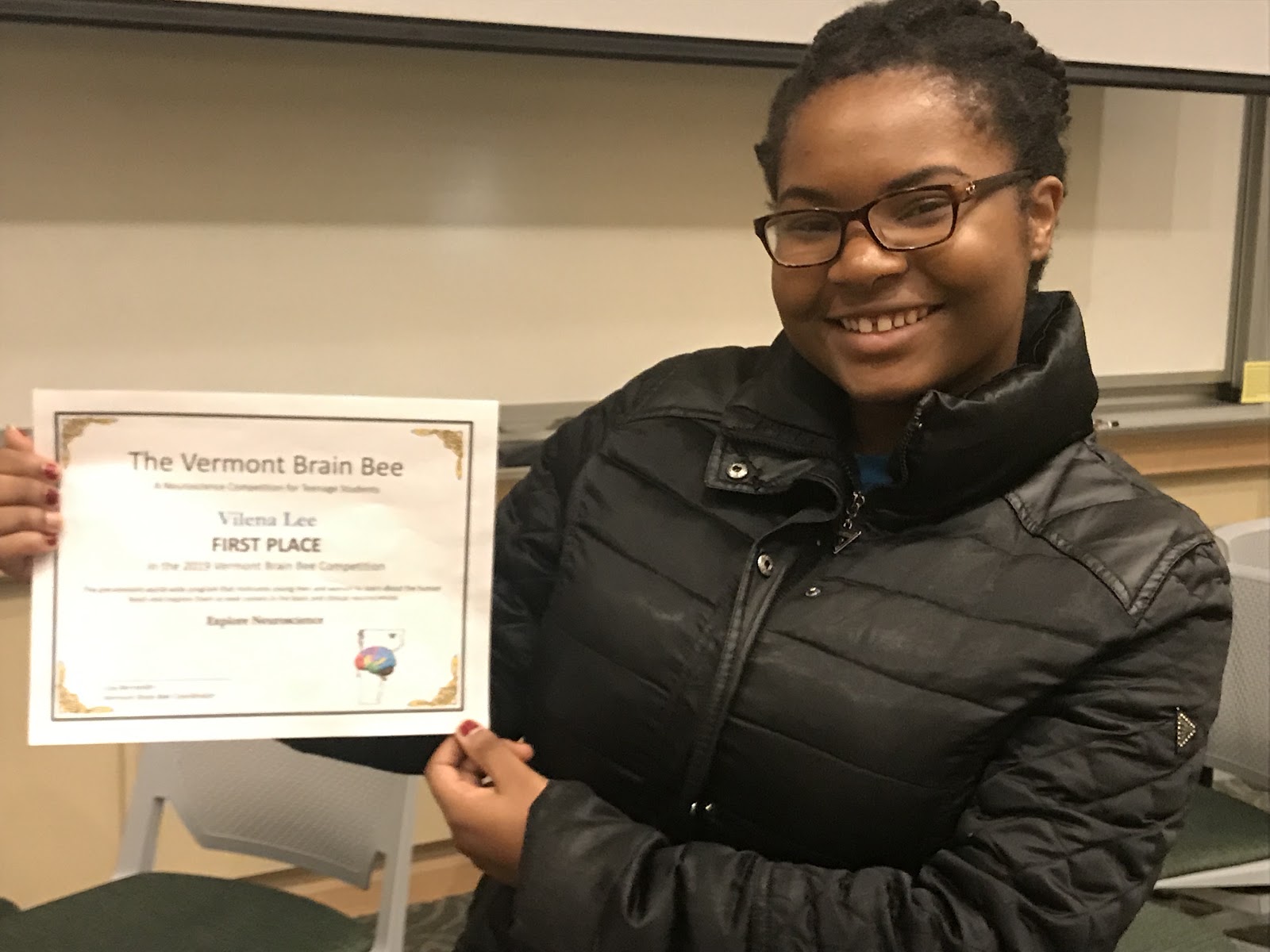 Vilena Lee to Represent Vermont at National Competition
Vilena Lee, Burlington High School senior, earned first place in the 10th Annual Vermont Brain Bee at the University of Vermont on Saturday, February 9th. More than 50 students from high schools across Vermont competed in the neuroscience competition and learning experience hosted at UVM's Larner College of Medicine. Lee will represent the state of Vermont in the National Brain Bee Competition at Penn State Medical Center in Hershey, Pennsylvania this April.
"I am so happy about this achievement," said Lee, who finished third overall in last year's competition. Participants must compete in written and practical exams during the event. In addition, students must compete in preliminary "oral bee rounds" to determine the top 8 finalists for the final round.
"Last year I didn't feel like I prepared as much as I thought I could. This year I prepared myself as though I was going to be participating in the National level competition. I bought a college level neuroscience textbook and read through it in preparation. I printed out the pages I thought were most important and made flash cards, and I used the study guide for the national competition to help my preparations. I am thrilled to move on to represent the state of Vermont at Nationals and I hope to be an inspiration to other girls interested in pursuing a future in STEM," added Lee.
"This is an enormous accomplishment and Vilena deserves to be recognized for the hard work and dedication that went into the process," said Burlington School District Superintendent Obeng, who plans to acknowledge Lee's achievement at the District's March 12 school board meeting. "I am proud of her for working diligently to achieve this goal and I know she will represent Burlington and Vermont well in Pennsylvania."
In addition to earning top marks at the event, Lee had the opportunity to attend neurological and psychiatric case presentations, a panel on Studying Neuroscience and the College Experience, and the keynote "Adolescent Neurodevelopment: Substance Use, Risk Factors, and Consequences."
Good luck, Vilena!