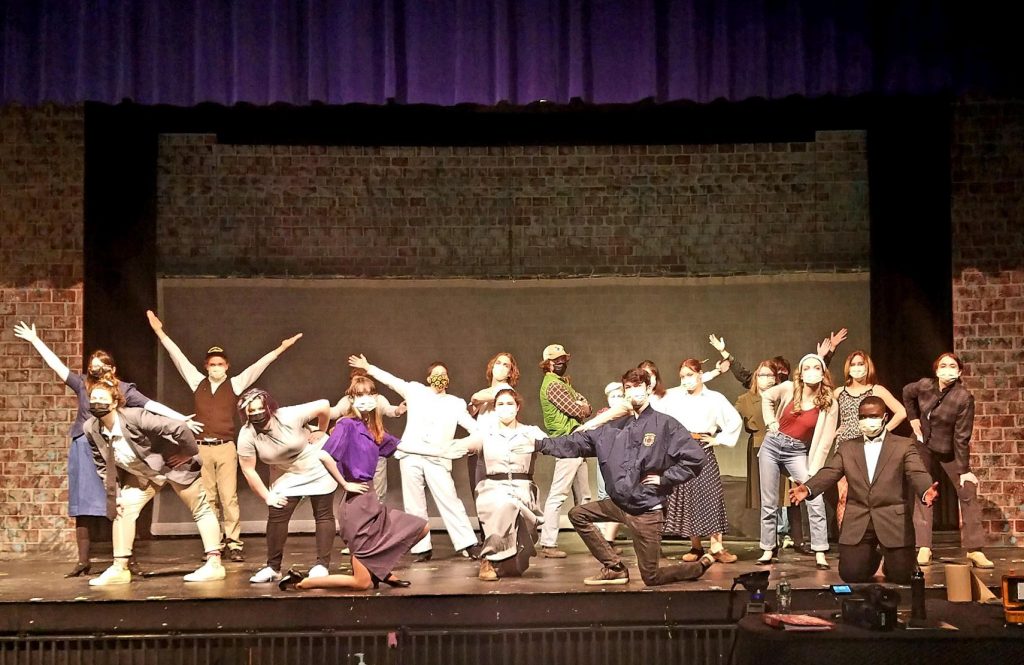 Mission
The mission of the Burlington High School Drama Club is as follows:
To encourage and promote the exchange of ideas, research, and creative production in all aspects of theater, both technical and performance-based, including acting, lighting, sound, construction, costume design and stage management
To provoke and sustain interest in the theater as one source of truth and insight into the human condition
To provide students enhanced understanding of current issues through theatrical expression
To educate and train future practitioners of performing arts
To present plays which reflect the both the past and present condition of society
About the Drama Club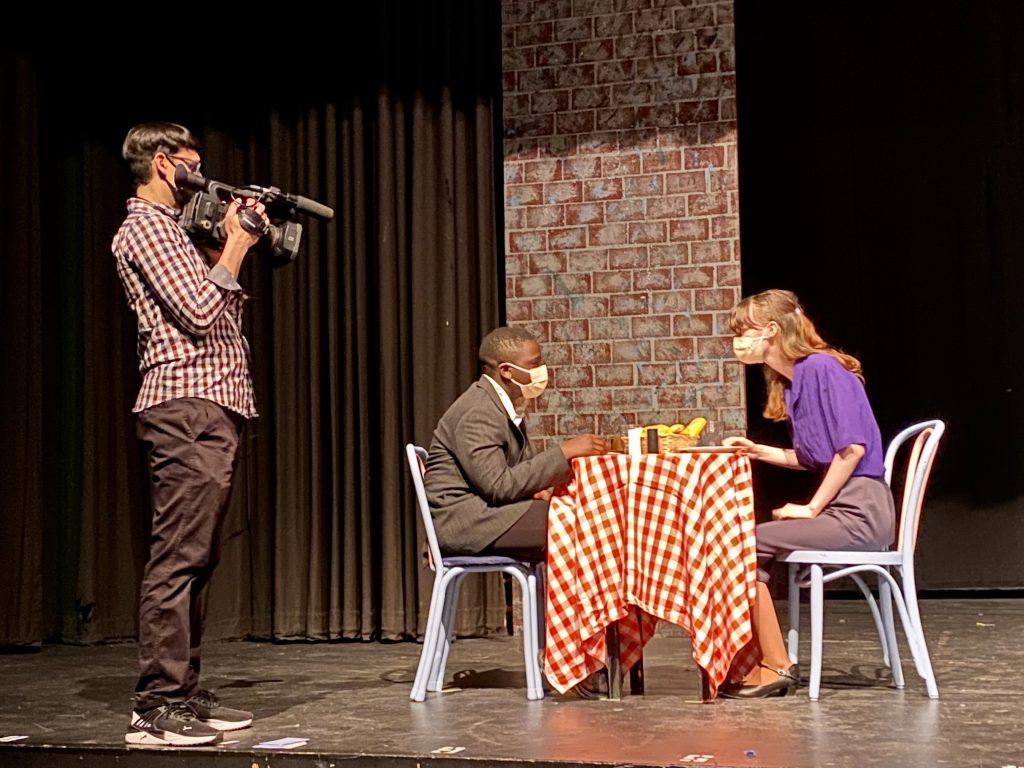 There are three "seasons" of Drama at Burlington High School. Two seasons, the Fall Musical and the One Act Play festival are open to all students and no cuts are made. Anyone that wishes to participare and be a member of the cast may do so. Anyone wishing to participate in stage construction and stage crew is also welcome to join the production.
The Fall Musical We typically a meeting for all students interested in participating in the musical. Senior and Junior members of the Drama Club, the Director, Assistant Director, Vocal Director, Lighting Director and Choreographer will speak to all interested students about the Drama Club, answer questions and generally try to make new students feel comfortable about the audition process for the Musical.
The next day, everyone interested in auditioning for the musical meets in the auditorium at 3:30. The choice of musical is revealed and the plot is explained and acting audition pieces are given to the students who wish to audition for a featured or leading role. If a student simply wants to be in the ensemble, then they need not take part in the acting auditions, This is the only optional audition. Then, the Vocal Director teaches the students the different audition pieces for the general ensemble, featured and leading roles. This meeting usually last until 5:15.
The following day is a repeat of the previous meeting, in case there are students who were not able to attend the first one or if students want to review the vocal pieces or to ask the Director clarifying questions concerning characters or procedures.
The third day is usually dedicated to vocal auditions. This audition is required of all interested students. The students have a chance to warm up, ask questions and go over their chosen pieces for a half an hour. The students will audition. This usually lasts about 90 minutes. Once a student has auditioned, they may leave. If someone has to leave early for one reason or another, they may request to audition early.
The fourth day is actung auditions. This is only for those students who are trying out for featured or leading roles. Again, auditions will begin by 4:00 and last until 5:30.
The fifth day is traditionally for dance auditions. Everyone is required to participate in this audition as well. Students are instructed to wear comfortable clothing and shoes, such as some sort of sneaker. Flip flops or sandals are not allowed. Everyone will work together with the Choerographer to learn a short routine for at least an hour before the auditions begin. This audition lasts until 5:30.
The next day, the cast list is posted and the season begins! Rehearsal schedules are posted each Monday morning by 7:30. Rehearsals last from 3:30-5:30. Individual schedules depend on the song, the dance number, the scene or the role that is being rehearsed. For example, a member of the ensemble might meet on Monday from 3:30-4:30, not on Tuesday, but again on Wednesday from 4;30-5;30. It simply depends on what needs work when.
There are Sunday rehearsals from 1:00-4:00. These rehearsals are very important because this is when we teach new material, review scenes, or run the show. Dress Rehearsals are the Sunday, Monday, Tuesday and Wednesday before the show. Sunday is the first rehearsal with the orchestra, microphones and complete lighting. It can run a little past 4:00, but we try to keep to our schedule so that students can go home and rest. The show will have a three performance run on a Thursday, Friday and Saturday (date TBA).
Technical, construction, costume, lighting and sound crews:
We are happy to welcome anyone being in the "behind the scenes" aspects of the theater. Students will be taught how to build sets, hang and adjust lights, run a sound board and work backstage during shows. During the Fall Musical, we usually have construction and technical sessions on Tuesday, Wednesday and Thursday evenings from 6:00-8:00. Students come for as long as they can for any day that's good for them.
If you have any additional questions, please contact one of the following BHS Drama Club/ Staff members:
Drama Club Director: Tammie Ledoux-Moody(tledoux@bsdvt.org)
Musical Director: Billy Ray Poli (bpoli@bsdvt.org)
Lighting/ Sound Director: Colby Skoglund (cskoglun@bsdvt.org)
Assistant Director (Musical): Peter Bowley (pb1719@nyu.edu)
About our Current Season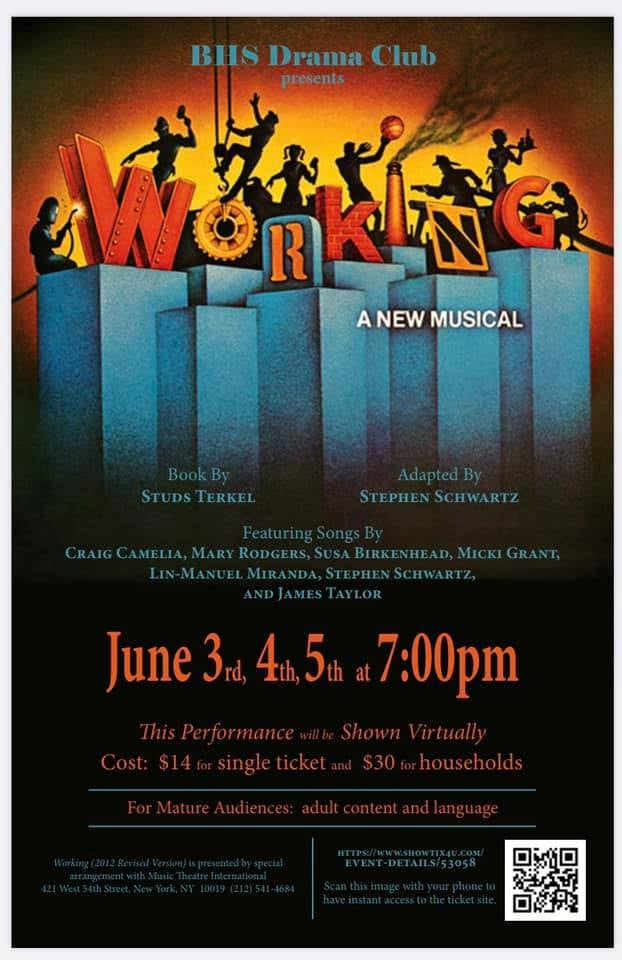 To purchase tickets, go to https://www.showtix4u.com/events/21752/?event=53058&date=140538.
Thanks to our awesome Cast & Crew!
For more information on becoming active in theater at BHS, please contact the Drama Club Director, Tammie Ledoux-Moody.