Welcome to the BHS School Counseling Webpage! Our staff works with all students in career and college planning, academic planning, new student information, and social-emotional concerns. Our goal is that all students graduate from Burlington High School well-prepared for success in their post-high school plan. Our students pursue many different paths after high school, including Armed Services enlistment, college, work, gap year, technical programs and beyond.
Please email your school counselor to schedule a meeting or with any questions or concerns. If you are experiencing a mental health emergency, contact First Call at (802) 488-7777.
Check out these upcoming virtual college fairs:
Western US College Fair (for students considering colleges out West): April 10 from 3-7PM
Southeastern US College Fair (for students considering colleges in the Southeast): April 20 from 3-7PM
US College Fair: May 2 from 1-7PM
For more information, click here.
Transcript Requests
To request a transcript or verify graduation, please email a request to Emily Merrill at emerrill@bsdvt.org.
Please include
your name at the time of attendance,
your date of birth, 
graduation date, if you have one and
please provide an email address for where you would like to have your transcript sent.
A release signed by the graduate is required for all third party requests.
 *****Please note that our school building is closed due to air quality issues. Transcripts of people who graduated before 2015 will take 7 – 10 business days to process.  We are very sorry for this inconvenience. *****
School Counselor Assignments
| | | | | |
| --- | --- | --- | --- | --- |
| Counselor | 9th Grade | 10th Grade | 11th Grade | 12th Grade |
| Lise Bruder     (lbruder@bsdvt.org) | A – E | A – G | A – F | A-Barr, J-L |
| Karen Prouty  (kprouty@bsdvt.org | F – L | H – Mc | G – L | Bars – I |
| Maggie Weintraub (mweintra@bsdvt.org) | M – S | Md – S | M – S | M – S |
| Meg Hughart (mhughart@bsdvt.org) | T – Z | T – Z | T – Z | T – Z |
| Tony Settel        (tsettel@bsdvt.org) | EL students | EL students | EL students | EL students |
Click here for a printable version of the School Counselor Assignments.
Contact the BHS School Counseling Office by calling (802) 864-8411.
Emily Merrill, Administrative Assistant – Ext 22003, emerrill@bsdvt.org
Kate Stein, Registrar  – Ext 22004, kstein@bsdvt.org
Check out where our 2020 Graduates were accepted: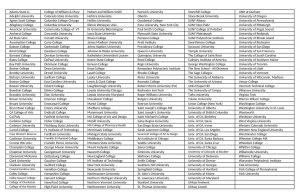 BHS School Counselor Roles
Academic Planning: Counselors assist students in developing a course of study appropriate to student's level, interest, and possible career path.
Post High School Planning: Counselors assist students in gaining knowledge about their own interests and skills by making use of assessments (skills and knowledge inventories, personality type/learning style assessors, etc.), use of the technology-based program Naviance, and individual counseling to develop an ongoing plan for life beyond high school.
Social/Emotional Support: Counselors can help students with a wide range of issues including but not limited to decision-making skills, transitions, time management skills, and learning how to manage peer relationships.
Counselors meet with students on both an individual basis and in a group settings throughout the student's high school career. Students may make an appointment with their counselor by directly emailing them. Their counselor will schedule them for an appointment. Counselors are available to students throughout the day and practice an "open door" policy whenever possible. Emergency situations will be handled on an individual basis.