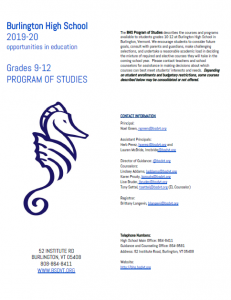 Burlington High School offers a comprehensive and challenging college preparatory program with an emphasis on academic excellence and intellectual curiosity, as laid out in our Program of Studies.
Due to Burlington's designation as a refugee resettlement center, students from all over the world interact with native Vermont students who themselves come from a broad range of socio-economic backgrounds. The result is a high school population of 1,050 that is uniquely and interestingly diverse, an urban school in
Faculty and Accreditation
Burlington High School is accredited by the New England Association of Secondary Schools and Colleges (NEASC) and the Vermont Department of Education. Among its professional faculty and administrative staff of
about 100, most have pursued graduate study, and nearly 78% hold a Master's Degree or higher. Faculty members are active in regional and national professional organizations.
Curriculum
Over 160 course offerings, primarily college preparatory or honors classes, are available.
Honors level achievement is designated by an asterisk (*) on student transcripts. Grades are unweighted.
Advanced Placement courses are offered in Biology, Calculus, Chemistry, English Literature and Composition, French, Music
Theory, Spanish, Statistics, Studio Art, U.S. Government and Politics, U.S. History, Environmental Studies, and World History.
Qualified students may enroll concurrently in college and university courses.
Support classes for the more than 140 students learning English for Speakers of Other Languages and for students with learning
challenges are also available.
Students may earn credit through community learning, workplace internships, and peer tutor programs as well as through reading,
remedial skills, and support programs such as ASPIRE and the Student Support Center.
The Burlington Technical Center, located on the BHS campus, and the nearby Center for Technology in Essex, offer rigorous career
pathway classes resulting in dual enrollment with high school