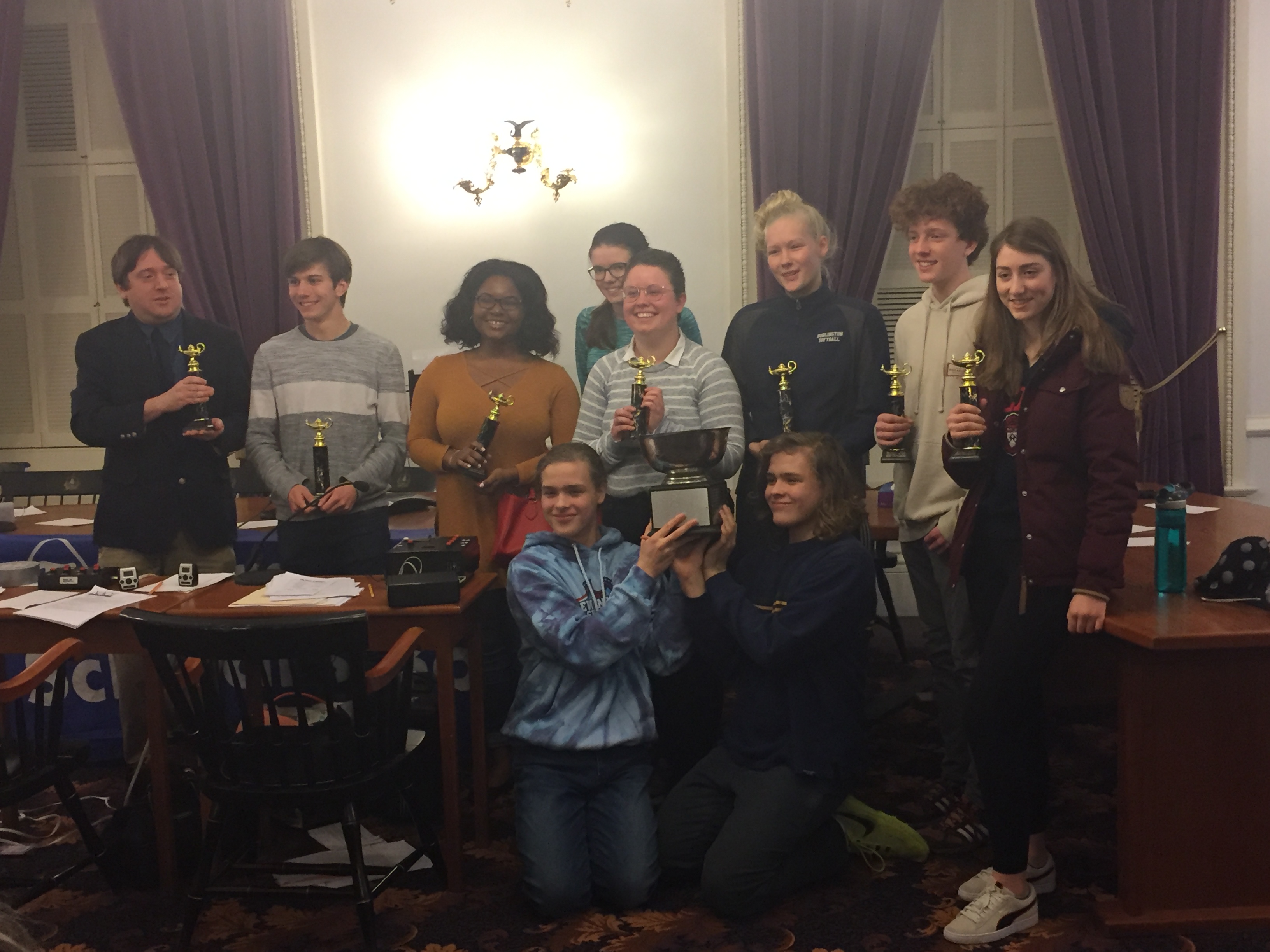 Team to Head to National Tournament!
The BHS Scholars' Bowl Team are state academic champions after winning the Vermont-NEA Scholars' Bowl at the State House in Montpelier on Saturday, March 30th. Burlington has now won the state tournament six times, with the most recent title coming in 2016. The Scholars' Bowl Team will now look to head to a national-level tournament later this spring.
The competing team for Burlington included Seniors: Zoe Koeninger, Anna Halladay, Vilena Lee and Simon Kissam; Juniors: Isidora Bailly-Hall and Isabella Farkas; and Sophomore Wyatt Harte. The team is coached by Kevin Commo who highlighted that the winning finals team of Zoe, Isidora, Anna and Vilena, was a primary lineup of all women in a competition where around 75% of participants are male.
Scholars' Bowl is a question-and-answer quiz competition, similar to Jeopardy! but featuring teams of high school students and with a heavy focus on academic curriculum. BHS defeated Champlain Valley Union High School in the championship match, 450-390, after building a big lead in the first of three rounds of competition and holding off a couple of late CVU comebacks. The match capped an exciting day of competition that featured teams from 11 schools around the state.
Burlington advanced to the finals by nipping defending champion Essex 350-315 in the quarterfinals and surging past South Burlington, 400-300, in the semifinals.
All of Saturday's scores:
Medlar Cup First Round
Burr and Burton 365, Cabot 270
St. Johnsbury 375, Woodstock 255
Essex 370, Windsor 170
Medlar Cup Semifinals
Essex 460, Burr and Burton 255
Middlebury 515, St. Johnsbury 295
Medlar Cup Final
Middlebury 455, Essex 295
Overall Quarterfinals
Middlebury 475, Hanover 345
Burlington 350, Essex 315
Overall Semifinals
Burlington 400, South Burlington 300
CVU 460, Middlebury 340
State Championship
  Burlington 450, CVU 390
###
Burlington School District (BSD) is a pre-k-12 public school system of about 4,000 students in Burlington, VT. BSD's mission is to graduate students who: value different cultures, engage with the community, communicate effectively, think creatively, skillfully solve problems, and achieve at their highest academic, intellectual, and personal potential.