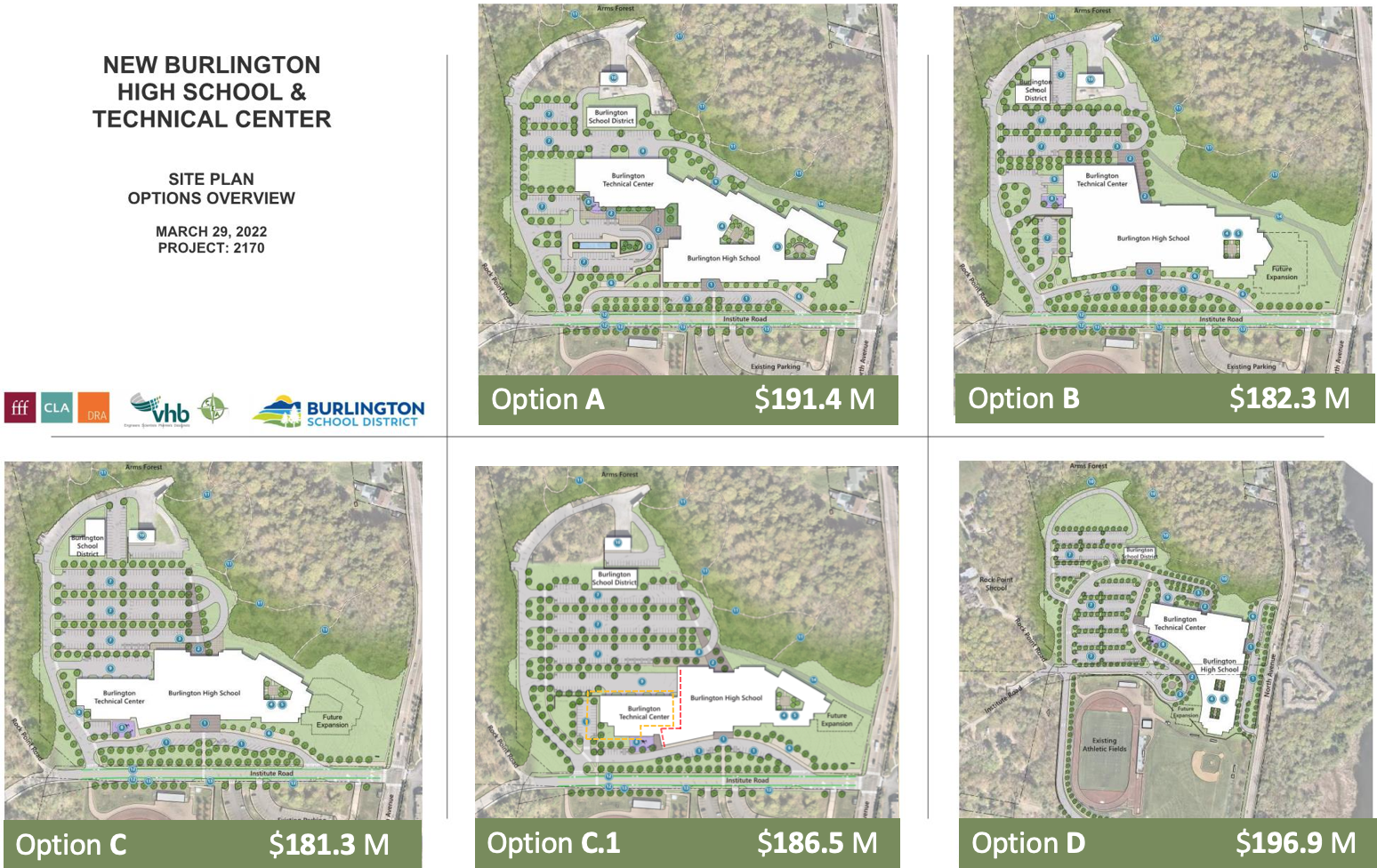 Members of the BHS/BTC 2025 Design Team presented five conceptual design options to the Burlington Board of School Commissioners on April 5th before hosting a community forum on April 12.
Below you will find a recording of the community forum, more details on all of these options, and a feedback survey. 
As you read through the options below, you may find our Options Evaluation Document helpful in pointing out some of the pros and cons of each design, and our recent presentation to the Design Steering Committee includes even more detail, like possible floor plans. It is also important to remember that the concept options all share the following potential benefits to the district:
Include approximately 300,000 SF of space in alignment with the District program
Include the same Educational Program elements as listed on the Space Needs Summary
Include potential for a 3 station gym, larger cafeteria commons, and larger auditorium
Have discrete vehicular circulation for bus drop-off, car drop-off, and service access to BTC
Have dedicated building entrances for visitors, bus drop-off, car drop-off, Horizons / On-Top, and BTC
High School entrances lead to a shared multi-level student commons for monitoring, access, and security
Excellent opportunity for sustainable design, good solar orientation, and indoor/outdoor relationships
Show a potential location for future district offices, but this building is not planned in this project
Existing Bike parking at the old site is 40 Bikes, all of these designes plan for 243 Bikes.
Overall the existing site has 350 parking spots. All of these designs have incorporated about 375 parking spots
All will feature opportunities to make courtyard space usable
Once you review the options below, please take a few minutes to provide feedback through this short survey, or send an email to superintendent@bsdvt.org. Please let us know your thoughts!
Option A: $191.4 M
Allows for continued use of existing Building A during the two years of construction
Places BTC to north side of building
Parking garage is optional, and would provide drop-off at main level and parking in close proximity to building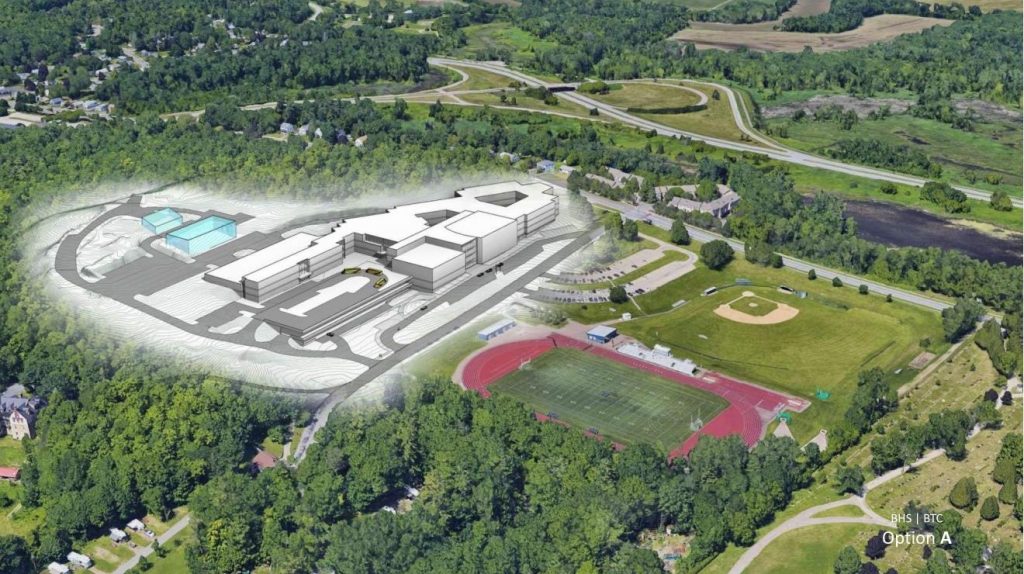 Option B: $182.3 M
Compact scheme based on building over existing high school location
BTC located behind BHS on north side, closely connected to BHS near the student commons
Again a reminder that courtyards are inherent in all designs. So if we do pick this, its not like we are picking the 'small courtyard' option, that is something that will be discussed in more detail during the schematic design process.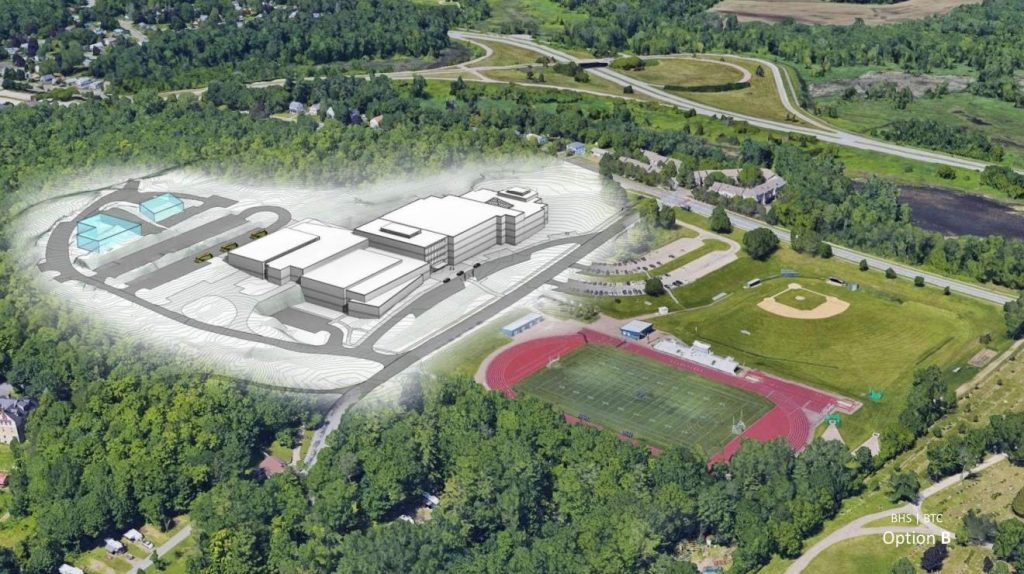 Option C: $181.3 M
Linear arrangement based on building over existing high school location parallel to Institute Road
BTC facing Institute Road on west side, connected to BHS on multiple levels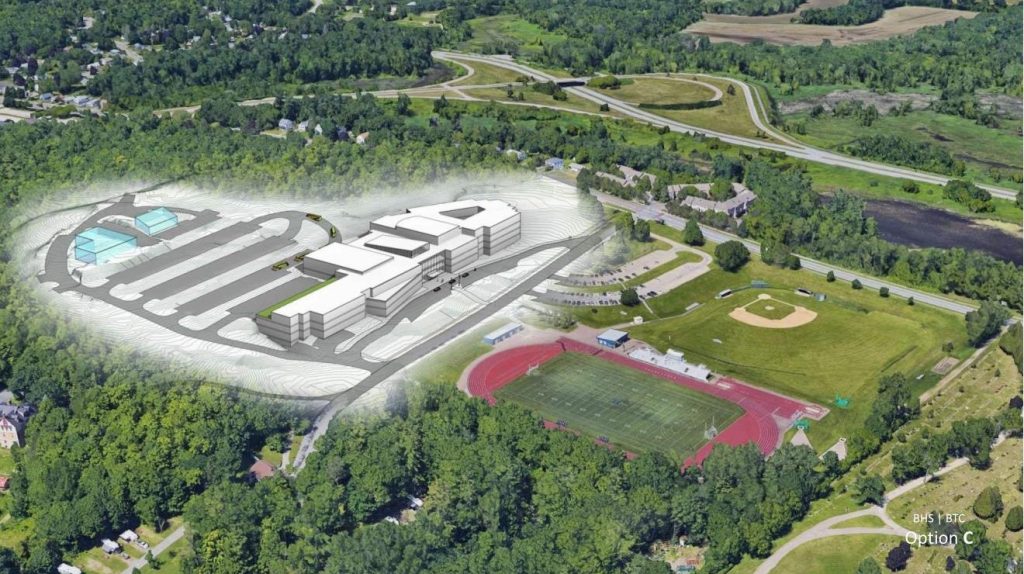 Option C.1: $186.5 M
Variation created by shifting Option C east in order to allow phased construction
Allows for continued use of existing Building A during the construction of new gym, auditorium, and kitchen; BTC programs would continue in their temporary locations
BTC would open 12-18 months after BHS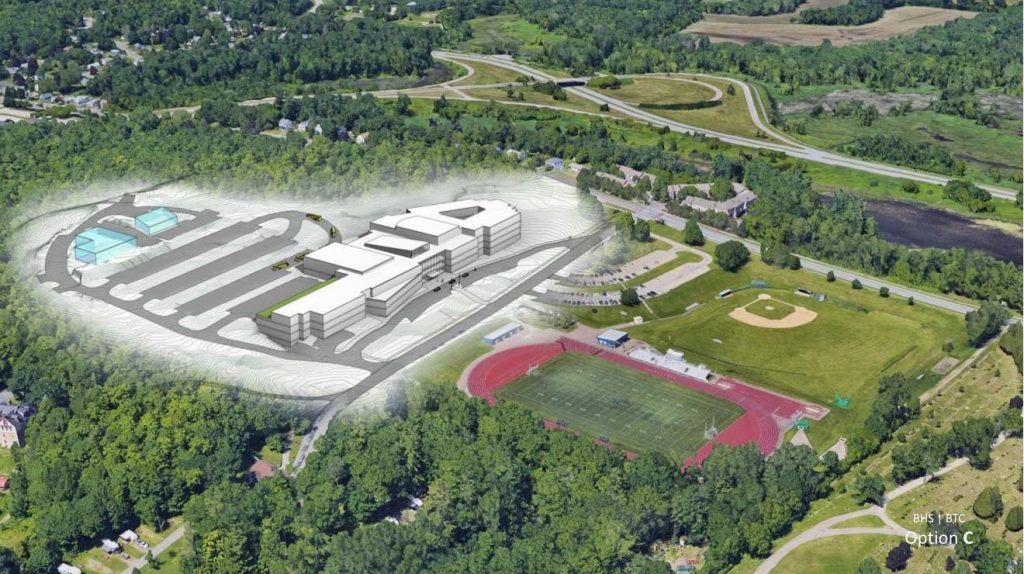 Option D: $196.9 M
Replaces Institute Road with a new south route to create a consolidated campus
Aligns new building facing North Avenue with BTC entry and bus entry to rear
Compact, L-shaped footprint with BHS and BTC on separate wings around central core spaces
City support to coordinate new road and likely longer project duration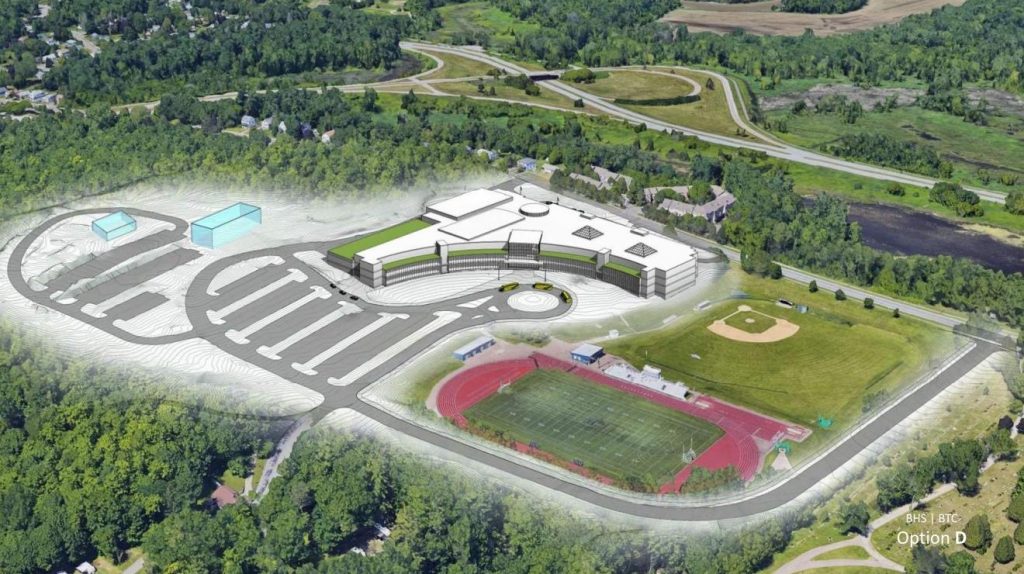 Thank you for taking the time to look through these options. Ready to provide your feedback? Take the survey today!
Check out the board meeting presentation below, beginning at 22:38.