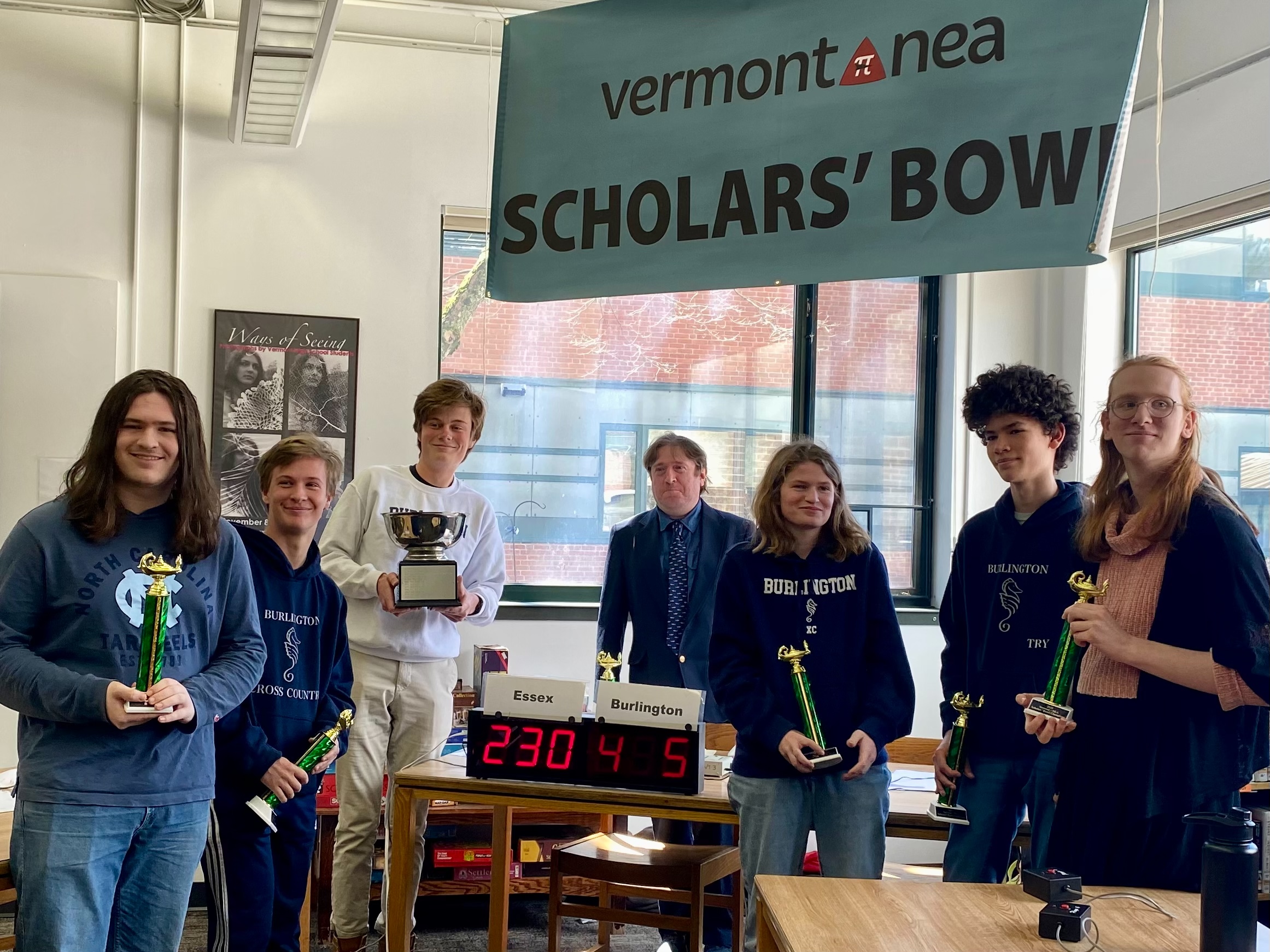 BHS has won the 2022-23 Vermont-NEA Scholars' Bowl Championship! The BHS team (from left Daniel McNamara, Isaac Doggett, Robbie Safran, coach Kevin Commo, Clare McNamara, Quinn Shelley, Ezra Case) claimed the championship after scoring a 405-230 victory over Essex High School in the final match at Montpelier High School on April 1st. (Photo courtesy of Charlotte Safran.) This is Burlington's second title in the past five years.
BHS defeated Essex High School in the championship match, 405-230, taking command late in the first of three rounds of competition and leading by at least 95 points throughout the final round. The match capped an exciting day of competition that featured teams from eight schools across the state.
Burlington advanced to the finals by fending off Rice Memorial High School 320-260 in the quarterfinals and by pulling away late in a 420-310 victory over Champlain Valley Union High School in the semifinals.
The competing team for Burlington included senior Robbie Safran, juniors Ezra Case, Daniel McNamara, Isaac Doggett and Quinn Shelley, and sophomore Clare McNamara. Kevin Commo is the team's coach.
Scholars' Bowl is a question-and-answer quiz competition, similar to Jeopardy! but featuring teams of high school students and with a heavier focus on the academic curriculum. Burlington has won the tournament seven times, with its most recent previous title in 2019.
Essex reached the state championship match for the seventh time in the last 10 contested seasons (the 2020 finals were canceled due to the pandemic) after rolling past Lyndon Institute 520-40 in the quarterfinals and knocking off top-seeded Hanover High School in the semifinals 330-255.
CVU won the Medlar Cup, the tournament's second-chance competition, with victories over Bellows Free Academy, St. Albans and Rice and added a quarterfinal win over South Burlington High School before facing Burlington in the semifinals.
All of Saturday's scores:
Medlar Cup Semifinals
Champlain Valley 480, BFA-St. Albans 105
Rice Memorial 290, Woodstock Union High School 265
Medlar Cup Final
Champlain Valley 425, Rice Memorial 185
Overall Quarterfinals
Essex 520, Lyndon 40
CVU 330, South Burlington 205
Burlington 320, Rice Memorial 260
Overall Semifinals
Burlington 420, Champlain Valley 310
Essex 330, Hanover 255
State Championship
Burlington 405, Essex 230