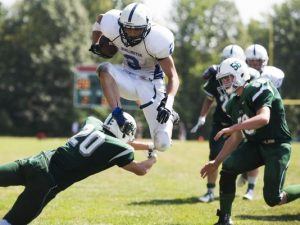 The mission of athletics at Burlington High School is to foster a positive environment where academic and athletic integrity, responsibility, and excellence thrive. We value our student-athletes, coaches, and athletic staff members as learners, citizens, and competitors who demonstrate perseverance, dedication to team, good sportsmanship, and respect for all.
Burlington High School offers 16 Boys and Girls Varsity Sports Programs. Our BHS Athletics website provides information about sign ups, schedules and updates throughout the season.
At BHS we are also growing our Unified Sports Program. Our athletes compete in basketball against other local high schools.