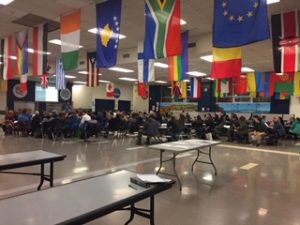 PSAT – January 26, 2021
We are gearing up for our January 26, 2021 PSAT at Edmunds Middle School. This test is part of the SAT suite of assessments, and can be a very important test for your post-secondary (aka "life after high school") planning. The PSAT is considered the "Pre-SAT" and is free to all 11th grade students at Burlington High School. The SAT is one of two high-stakes college entrance examinations (the other being the ACT).  One of the key reasons in taking this test is for the National Merit Scholarship Program. The score you earn on this test may qualify you to be a finalist for this prestigious scholarship program, and many other scholarship awards. Additionally, this is a great opportunity to practice your high-stakes-test-taking skills. After taking the test, your score report will allow you to create a College Board account and get personalized advice on how to improve your score in preparation for the SAT.
The test will begin between 8-9am (as soon as all students are COVID-screened and seated). The test itself is 2 hours and 45 minutes long; however, we will have students complete some general survey information required by the College Board prior to beginning the test. There are three key tests on the PSAT: Writing and Language, Math and Reading. The best way to prepare for this high-stakes test is to practice. Khan Academy has developed a partnership with SAT, and provides full-length practice tests and feedback for free.
On the day of the test, students will need to wear a mask, bring a state or school issued ID, and a calculator. If you do not have a calculator, BHS has plenty available to loan out for the day. Your room proctor will provide one if you need it. If you are bringing your own calculator, please review the College Board's requirement for calculators. Cell phones are not permitted to be used during the test, and your test will be voided if your phone is seen during the exam and breaks.
Students will be distanced in the classroom, with strict social distancing class capacity numbers in place. Due to this, we are requesting that students who plan to take this test complete the PSAT Sign-up Form by Friday, January 15, 2021. This will allow us to make sure we have the appropriate number of screeners, classrooms and proctors for the event.
For more information about the test, including a full length practice test, please use the PSAT Student Guide. Students may also pick up a hard copy of this booklet on Wednesday, January 6 or Wednesday, January 13 outside of the Counseling Office at Edmunds Middle School.
General Information about 11th Grade
Junior year is the time students begin exploring their post-secondary options.  The most important task for students to focus on is maintaining and improving their grades.  While it can be very difficult to improve one's cumulative GPA significantly, many college admissions offices do note an improvement in grades throughout four years of high school.  Additionally, get involved!  Gone are the days where admission officers wish to see students involved in a dozen different activities.  Now, the preference is to see extended involvement in a few activities that also demonstrate your leadership.
Students can begin to explore colleges through Naviance, where students can use different search parameters to develop a list of potential colleges.  Career exploration is another useful tool on this website, as you can learn about different careers and what they entail and what you will earn.  If you need your login information, please reach out to your counselor.
New this year, we are offering the College Prep Program ("CPP") after school on Thursdays at BHS.  A BHS alumna, Jayna Ahsaf, has partnered with our office to provide small group college planning support in addition to ACT and SAT practice tests.  Please stop by Room C102 on Thursdays at 3:15 for the CPP!
In the Fall of Junior year, students will take the PSAT, which is a precursor to the SAT.  This test will provide personalized feedback on how they may improve their SAT score later on in the year.  Additionally, this test qualifies a select few students for the National Merit Scholarship, which is a highly competitive scholarship.  More information about this can be found here.
In the Spring of Junior year, all juniors will take the ACT, which is given for free to BHS students.  Test dates are listed on the Events page of our website, and BHS staff will complete all registration with students.  Please refer to our SAT/ACT link here for more information about this test.
The Counseling Office will be registering juniors for their senior year classes individually in February; this will allow ample time for questions and addressing any concerns.  If you are interested in setting up a meeting with your counselor, please email them to schedule.
College Calendar Checklist for Juniors
The College Calendar Checklist for Juniors is a helpful guide for students to use to be reminded when they should be doing certain things for college during their junior year.  Note that this is meant to be a helpful guide and that all students will vary in the college process.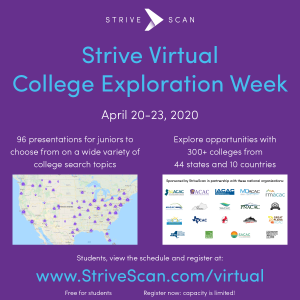 Follow this link for more information about this free informational week for juniors.