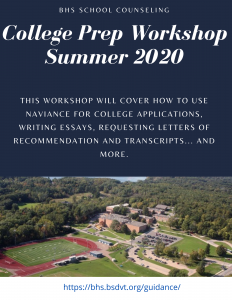 Attention Rising Seniors – sign up here to reserve your space!
Burlington High School utilizes Naviance for post-secondary planning.  If you need your username (which is typically your BHS email address) or password, please email Kate Stein at kstein@bsdvt.org.
If you need to request your transcript for college admissions, you can follow these directions: Requesting your transcript on Naviance.
If you are applying to college using the Common Application, you will need to link your Naviance account to your application, in order to request transcripts and letters of recommendation.  Instructions for doing so are here: Linking your Naviance Account to your Common Application.
Web Resources for Scholarships
Above is a very helpful source when it comes to looking for scholarships and financial help.